Jun
6
Sat
Freedom Rally

@ Lincoln, NE State Capitol
Jun 6 @ 11:00 am – 4:00 pm
What: FREEDOM RALLY
A demand for transparency about those advising them on the states reaction to this and any other situation. Including possible conflicts of interest, financial and personal!
When: D Day, Saturday June 6th   
Time:   11:00 AM – 4:00 PM
Where: Lincoln, NE – State Capitol
Who:
Everyone is invited to express our determination to hold our elected officials to their Oath and the limits place on the by the Constitution.
Topics:
County Sheriffs duty to protect the people of their counties from future government overreach at any level
The prosecution of elected officials violating those limits Title 18 code 242 Deprivation of rights under the color of law
Forced inoculations, shut downs, state regulations interfering in the free distribution of food supplies and crippling regulations and red tape for food producers
The threats of violence by government officials via law enforcement and how that would lead to famine and civil war followed by foreign invasion
Citizen oversight of government agencies
Speakers:
Red Pill Patriot Music
Coach Dave
Sheriff Mack
Several Local speakers
A black robe regiment pastor
Cost:   Your shared travel and lodging
RSVP:  None requested
Contact:  coach@coachdavelive.com
Jun
13
Sat
Huddle in PA

@ Terry Allen's home
What:  Huddle 
When:  Saturday, June 13th through Sunday June 14th.   
Where:  Terry Allen's home.  "Mtn. Man"   345 Main Rd. Spring Mills, PA  16875 
Time:  12 PM Saturday through Sunday around noon.  We will have breakfast, service together & break for home.   
Who: Mtn. Man is hosting.  
Speakers:  Coach Dave will be attending.  
Cost:  Free 
RSVP:  Please RSVP as soon as possible.  
Contact:  Bobby Lee   570-236-1867    pennsylvania@saltandlightbrigade.org
Jun
26
Fri
Texas Salt & Light Brigade Assembly

@ Estes Ranch
Jun 26 @ 8:00 pm – Jun 28 @ 12:00 pm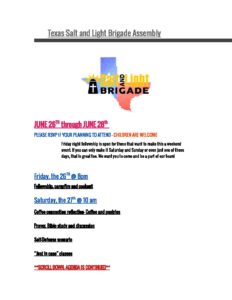 What: Texas Salt & Light Brigade Assembly
When: Fri – Sun, June 26-28, 2020
Where: Estes Ranch, Temple, TX
Cost: FREE (food donations for Sunday breakfast welcome)
Contact: Chad
Email: texas@saltandlightbrigade.org
Website:  coachdavelive.com/events