PA SPIRITUAL WARFARE HUDDLE! Crushing HELLS WEEKEND!
October 28 @ 5:00 pm

-

October 30 @ 5:00 pm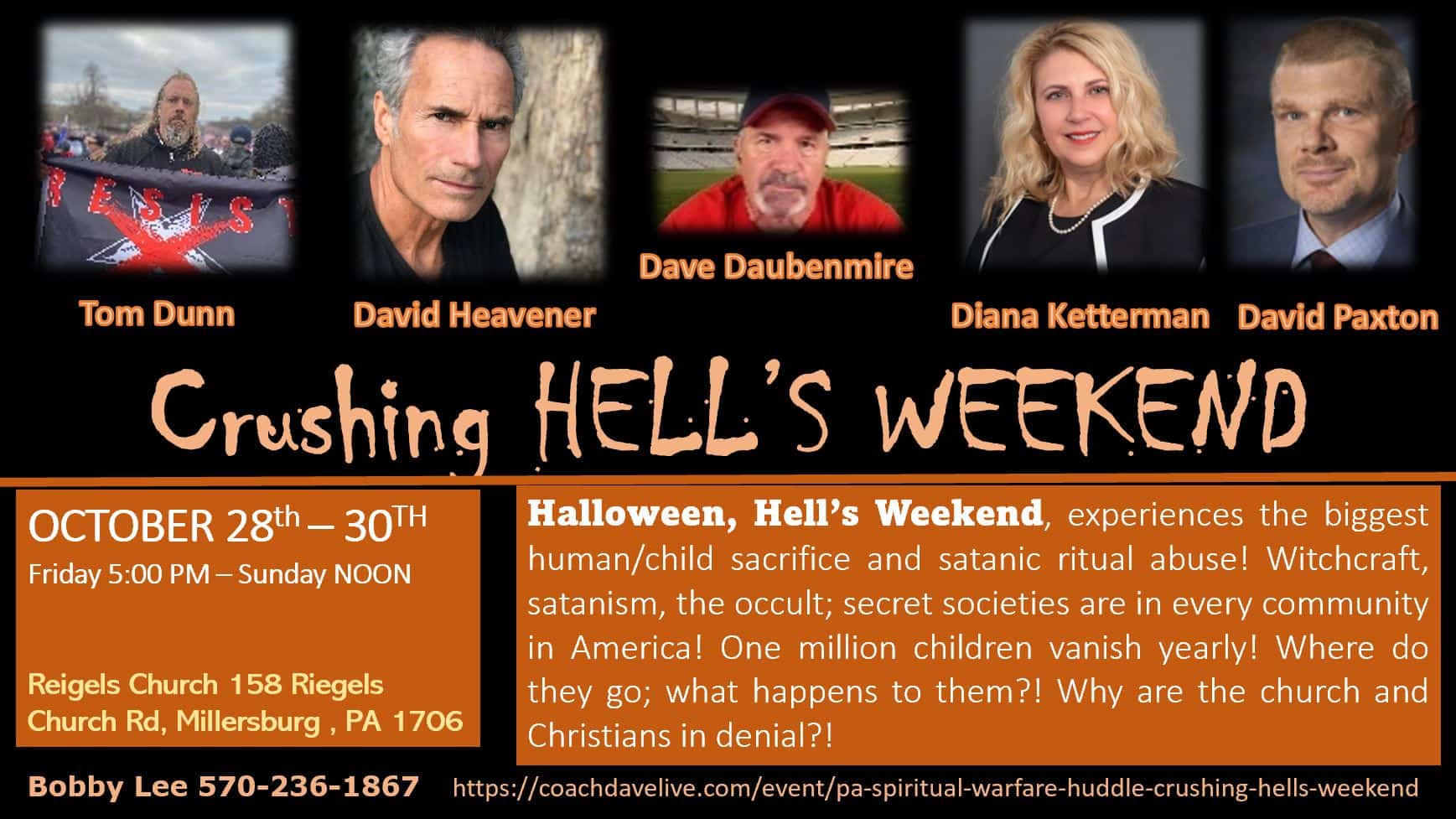 EVENT INFORMATION:
_______________________________________________________________________________________
WHAT: PA SPIRITUAL WARFARE HUDDLE! Crushing HELLS WEEKEND!
WHEN: Oct. 28th – 30th honk & wave Sat. morning. Speakers start at noon. 
WHERE: Reigels Church 158 Riegels Church Rd, Millersburg , PA 1706
TIME: 5:00 P.M. Friday – 12:00 P.M. Sunday
WHO: Halloween, Hell's weekend experiences the biggest human/child sacrifice & satanic ritual abuse! Witchcraft, Satanism, the occult & secret societies are in every community America! 1 million kids vanish yearly! Where do they go & what happens to them?! Why is the church and Christians in denial?!
From Sunday school teacher to guerrilla filmmaker, Tom Dunn trained with occult crimes expert Russ Dizdar for 8 years before launching out on his own. He has released three films including "Detestable" and "This is a War."  Tom stays busy with family, filmmaking, boots on the ground ministry and his Rumble show called "Through the Back, exposing satanic ritual abuse!"
Coach Dave Daubenmire Former H.S. football coach, sued by the ACLU for mixing prayer with his coaching. He is a popular, high-energy speaker, challenging Americans across the country to stand up and mobilize against tyranny and unbiblical values. Live talk show Mon – Fri 7 – 8 am. https://coachdavelive.com/
Jesus said in 1 John 4 that the spirit of antichrist was in the world 2000 years ago. Further scripture reveals that this spirit had an agenda from the beginning to DESTROY God's creation, especially mankind. We are at the cusp of realizing the effects of the fruits of darkness, conceived by the spirit of antichrist and orchestrated through societies who are like puppets. The infiltration of this deception is flooding our homes, churches, communities and individual lives. This session will reveal societies' secrets and help usher you into THE SECRET PLACE where you can find deliverance and salvation from this present darkness.
David Heavener will be speaking on satanic ritual abuse, programmed multiples, demon portals & Hollywood mind control. All is focused in Dave Heavener's new book, In Times Investigation.
David Paxton was drawn to Jesus ( Yahushua ) at the early age of 15. David has been studying all things prophetic since then, pushing 40 years now. He has a ministry where he examines and teaches these things called The Hidden Day. This is an early name for Rosh Ha Shanah.  It is Yom Ha Kesah, The day of hiding.  
COST: FREE ADMISSION, DONATIONS ENCOURAGED. 
LODGING: https://lodgelykensvalley.com/ The Lodge at Lykens Valley
1940 State Route 25 Millersburg, PA 17061 800-257-2211 $83.20 total cost!
RSVP: REQUIRED.
CONTACT: Bobby Lee 570-236-1867 EMAIL: pennsylvania@saltandlightbrigade.org